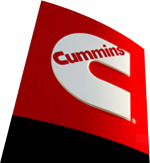 Cummins designs and manufactures power products through its Cummins Power Generation division for use as standby and prime power systems.
Cummins manufactures all of the power generation components that are included in their products. This includes fuel systems, controls, air handling, filtration, emission solutions, and electrical power generation systems.
CUMMINS GENERATOR SETS
Cummins power generation products are targeted to supplying power for global standby and emergency power systems. Their generator sets offer power products for Commercial, Light Commercial, Mobile, Marine, Rental, High Range Power, High Horsepower, and Data Center Continuous Generator Sets.
Industrial and Marine Diesel and HFO Generator Sets
The diesel generator sets offered by Cummins are designed to supply power to standby and emergency power systems worldwide. Capable of fast starts, with large capacities, the brand is recognized for its dependability and reliability. The diesel generators Cummins supplies are specifically suited to satisfy the power management of large industrial and commercial power plants.
Cummins Diesel/HFO Industrial and Marine Generator Sets
Cummins D1703
Cummins V2203
Cummins V3300
Cummins 4B3.9
Cummins 4BT3.3
Cummins S3.8
Cummins QSB5

Cummins 4BT3.9
Cummins 4BTA3.9
Cummins 6BT5.9
Cummins 6BTA5.9
Cummins QSB7
Cummins 6CTA8.3
Cummins 6CTAA8.3

Cummins QSL9
Cummins QSM11
Cummins NTA855
Cummins QSX15
Cummins VTA28
Cummins QSK19
Cummins QSK23
Gas Generator Sets
Cummins offers lean-burn gas generator sets that have power capabilities ranging from 300 kW to 2MW. The gas products offered by Cummins are capable of running on natural gas as well as alternative gas fuels as well. These gas generator sets are sold for use for prime, standby, and cogeneration power production.
Cummins Gas Generator Sets
Cummins QSK60

Cummins QSV91

CUMMINS ENGINES
IMP provides Cummins Off-Highway engines for use in Marine, Mining, Oil & Gas, and Stand-By Power applications. The engines are available for Off-Highway and Marine applications and include both diesel and natural gas fuels.
Cummins Diesel/HFO Industrial Off-Highway and Marine Engines
Cummins Off-Highway and Marine Engines are available from IMP as individual products, as replacement components to generator sets, or for inclusion in large-scale projects.
Off-Highway
Cummins QSK38
Cummins KTA38GC

Marine
Cummins QSM111
Cummins QSM11
Cummins QSK38
Cummins QSK60 MCRS

Cummins QSL9
Cummins K38
Cummins QSK60 HPI
Cummins K19 CCEC